Last time I wrote a blog about my favourite places to grab coffee, there weren't any of these newer independents on the scene.
My tastes in coffee have changed considerably since, with the quality of local coffee shops rising above the corporate coffee blandness.
Now I will not stand for bland lack lustre coffee. I expect my Americano to make a statement, expect pour overs to be on offer bringing the complexities of marshmallow through to grapefruit, whilst I still want to have the freedom of choice to dabble with syrups for that cheap sugary hit without being frowned upon.
The new crème de la crème in the coffee world offer this.
First up … North Tea Power. I mentioned these back in 2010, they originally opened as a tea specialist and now the cute Indie cafe serves up teas, coffees, food and beers. I recently went to a Has Bean: In My Mug Live event, where we tasted the El Salvador Finca from Argentina. It was a lovely contrast to kick start the event with a can of Brooklyn ale before sampling washed, natural and pulped varieties of the blend moving to the final hit of espresso. My favourite was the washed varietal and surprisingly we didn't need much of the coffee to give us the kick ass caffeine hit.
Newish to Gatley is Coffee Fix who opened there doors last year, but lay unbeknown to me until two months ago. They are excellent for their pour overs with the Sidamo from Ethiopia being a particular favourite of mine, served both hot cold and on those extremely hung-over days lending itself to being sweetened with a sugar shot. Coffee Fix owners are good friends with the lovelies from North Tea and also with the next coffee mention Trove in Levenshulme.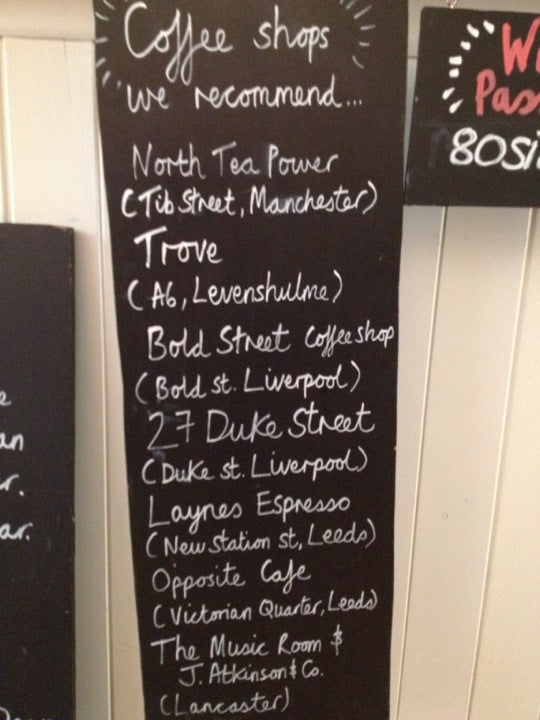 Trove is a delightful little coffee plus homemade bread and cake spot, situated on the A6 opposite the Antique showroom.  It is run by husband and wife duo Marcus and Kate who specialise in goodness and creativity, making bread and jams and creating their own magazine http://www.trovefoods.co.uk/trovelife/. They often run stalls on local farmers markets, at Northenden earlier this month and Levenshulme on Saturday. They've got the style spot on with a lovely stampy stamp of the Trove van. A great place and nice to see good things happening in Levy.
The next two coffee shops are a bit further West of Manchester, in Liverpool… Bold St and sibling coffee bar Duke St. Again, these beauties rack up an impressive array of pour overs and underpriced espresso. The staff a friendly bunch who know what they are doing with coffee, style and presence.
The incestuous nature of these locals, show a real sense of growing community. Sampling the new and vibrant coffee culture goes hand in hand with the trendy real ale trail that's made its mark on the British landscape over the past few years.
Next up on the radar to try will be Caffeine & Co, Manchester who the friendly chap at Duke St gave a shout out to.